Pamukkale Peshtemal, Lidya Hammam Towel and Flora Peshtemal
We are continuing our latest fashion peshtemal reviews this week with our locally named Pamukkale Peshtemal, Lidya Hammam Towel, and hipstery colored Flora Turkish Beach Towel. As we proudly design, manufacture, and wholesale our unique peshtemals, we suggest you to take a look at our "products" page for more information and options so that you won't miss our latest high-quality Turkish Beach Towels! We believe the Beach Towels in this article will bring a whole new look and fashion sense to the classic and boring beach towels this summer. We are hyped to present you our Pamukkale Peshtemal, Lidya Hamam Towel, and Flora Turkish Beach Towel.
Pamukkale Peshtemal
Woven from %100 high quality cotton, Pamukkale Peshtemal weighs 380 grams and it has a size of 100×180 centimeters. Pamukkale Peshtemal is a bit heavier compared to our other peshtemals yet this feature enables it to be more absorbent making it perfect to use it in a long day at the beach. Pamukkale Peshtemal is highly durable and quick-drying.
In this design, we used thick stripes in the middle and thin stripes and fringes at the ends. The unique and special thing about this product is how the colors of it represent the serenity and the freshness of travertine terraces of Pamukkale. The color spectrum of this product is chosen from the shades of travertines in every phase of the day. This makes the Pamukkale Peshtemal perfect for freshening up at the beach, feeling cool and relaxed in traditional Turkish Hammams. Also it can be a highly decorative towel in your homes where every guest would be impressed.
To learn more about this decorative, elegant and eye-catching Turkish Towel visit: Pamukkale Peshtemal
Flora Turkish Beach Towel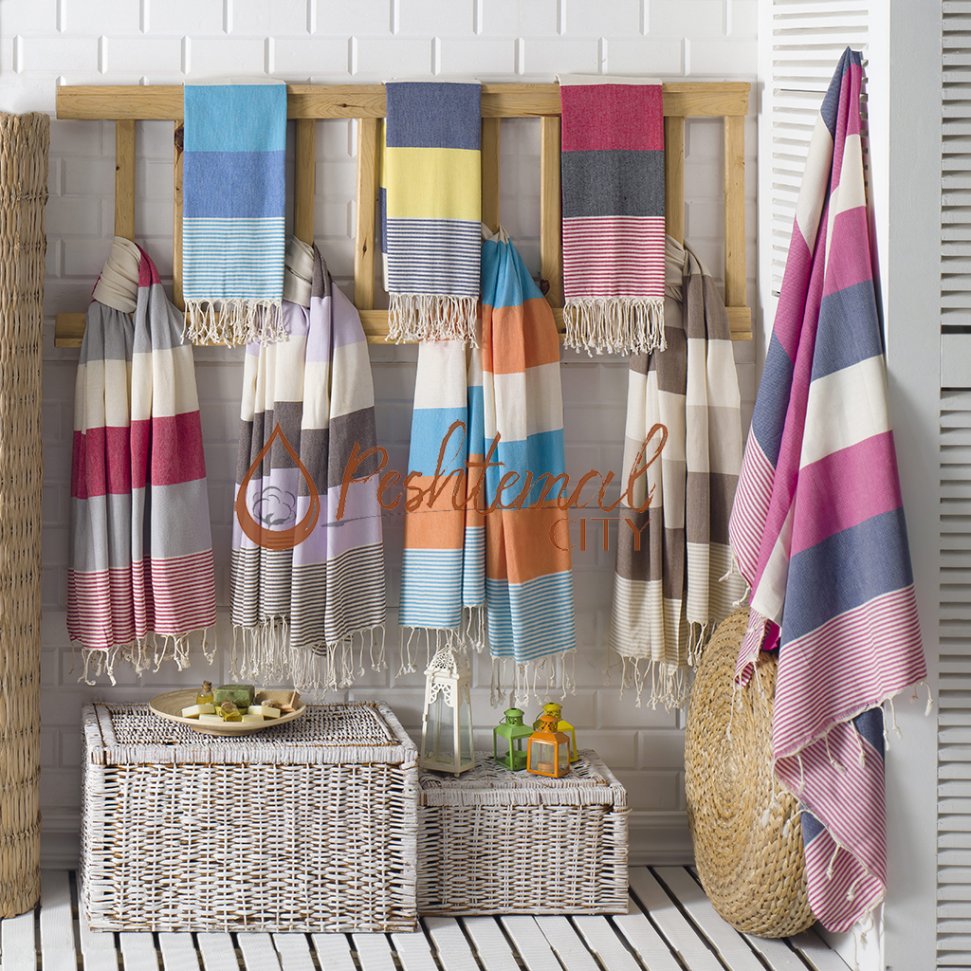 Also woven from %100 quality cotton, Flora Turkish Beach Towel is soft and easy to pack. With a size of 100×180 centimeters and a weight of only 260 grams, it takes a tiny place in your backpack. It is a highly absorbent and light-weight . As it is our mark, it is extremely durable. It is an example of unusual elegance with its thick and thin stripes.
This product is for our customers that prefer more hipstery colors rather than flashy colors. We are trying to create designs for every taste. Our designers were inspired by nature and combined the Spring and Autumn flowers' shades while creating the color spectrum of this product. It is perfect for a picnic by the lake as it only weighs 260 grams. You can carry it with you every day ready to settle when you stumble upon a perfect spot to lay down your Flora Peshtemal and relax, have a lunch or just read a book. And we bet that it will be the complementary piece in your homes.
To learn more about this one of a kind product and take a look at the color options we are waiting you to visit here: Flora Turkish Beach Towel
Lidya Hammam Towel
With its simple strippy design, Lidya Hammam Towel becomes a must have Peshtemal in your suitcase and it is perfect for every occasion. It is an essential piece in our latest and top quality collection. It is durable and surprisingly lightweight with a weight of 260 grams and with a size of 100×180 centimeters. It is soft and safe to use without causing irritation on skin as we weave our products from %100 top quality cotton.
This Hammam towel is named after the Lydia which was an Iron Age kingdom inhibited in the western part of Turkey. This hammam towel is a representation of tradition yet modernised with wide vibrant and soft color spectrum and thick stripes. There are color options for your every mood. This product is what you need and deserve as it is highly fashionable, easy to pack and wash, highly absorbent and light as a feather. Whether use it in our famous Turkish Hammams or at the beach or in the gym you will see the difference and be glad to have chosen our Peshtemal over ordinary towels.
For more information on one of our highest quality Hammam Towels visit: Lidya Hammam Towel